To aware customers about Quikr Assured, Quikr launches #MannHaiTohDoneHai campaign
30-Nov-2018
Quikr launched a series of video ad campaigns to aware the customers about 'Quikr Assured' products and services. These are products that are certified by Quikr for quality, come with a warranty, refurbished if needed, and also consists of services that are top-notch.
The '#MannHaiTohDoneHai' campaign comprises of nine commercials targeting Quikr's transactional businesses in multiple areas in its verticals, including co-living, cars and bikes, electronics and furniture, beauty and home services. The campaign aims to highlight the key benefits of these products and services.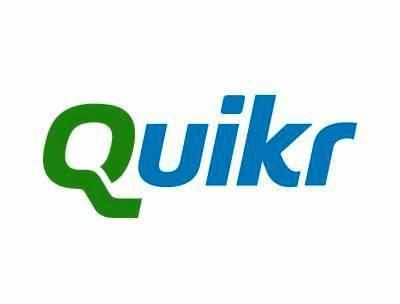 These commercials address several points like durable furniture in the used good market, a brokerage for PGs, buying latest smartphones that are budget-friendly, and selling of bikes and cars and among others. It sets a context by addressing the aspirations of the youth in India, thus helping urban Indians to upgrade their lives by providing great quality products/services at reasonable prices and on time.
In order to build resonance with the new category, Quikr has also launched a logo to represent Quikr Assured Products and Services. In the logo, the shield covering the 'Q' of Quikr signifies the relationship built with the consumers and the brand over these past years, thus building trust in the category.
Speaking about the new ad campaign, Vineet Sehgal, CMO at Quikr said, "Whether it is a specific product need or a service requirement, the '#MannHaiTohDoneHai' campaign highlights that a trusted partner like Quikr has a solution which assures quality on the go while being easy on the pocket. Coupled with advantages across multiple categories such as faster delivery, warranty, EMI options, and trained professionals, Quikr Assured is proving to be the one-in-all transaction platform to go to."
Furthermore, he said, "Since verticalization three years ago, Quikr has been able to offer consumers an easy way to access these products and services in a very user-friendly manner, and we want to be able to build on this trust with our consumers."
Watch ad campaigns here:
Buy Quikr Assured Bikes TVC
Buy Quikr Assured Cars TVC
Book Quikr Assured PGs TVC
Sell Your Car To Quikr TVC
Buy Quikr Assured Electronics TVC
Buy Quikr Assured Furniture TVC
Buy Quikr Assured Mobiles TVC
Book QuikrEasy Home Services TVC
Popular Reads:
Approach Entertainment Signs Indian- American Singer Someya to launch in Bollywood
7th edition of OSH India expo organized on 29-30 November 2018