Plexpo India 2019 organized by Gujarat State Plastics Manufacturers Association
28-Dec-2018
The 8th edition of the International Plastics and Packaging Exhibition, Plexpo India 2019 is scheduled during 17-20 January, 2019 in Bombay Exhibition Centre, Mumbai.
Gujarat State Plastics Manufacturers Association (GSPMA) organizes International Plastic Exhibition every 3 years for the growth & development of plastic industry in India. This gives a unique platform to the exhibitors related to plastics and packaging industry.

One of the top Indian Plastic Exhibitions, Plexpo India is aimed at creating a strong and effective platform for buyers & sellers networking, launch and display of new technology, tie ups etc.
GSPMA is the first plastic trade association who launched the first-ever Plastic Trade Exhibition in India.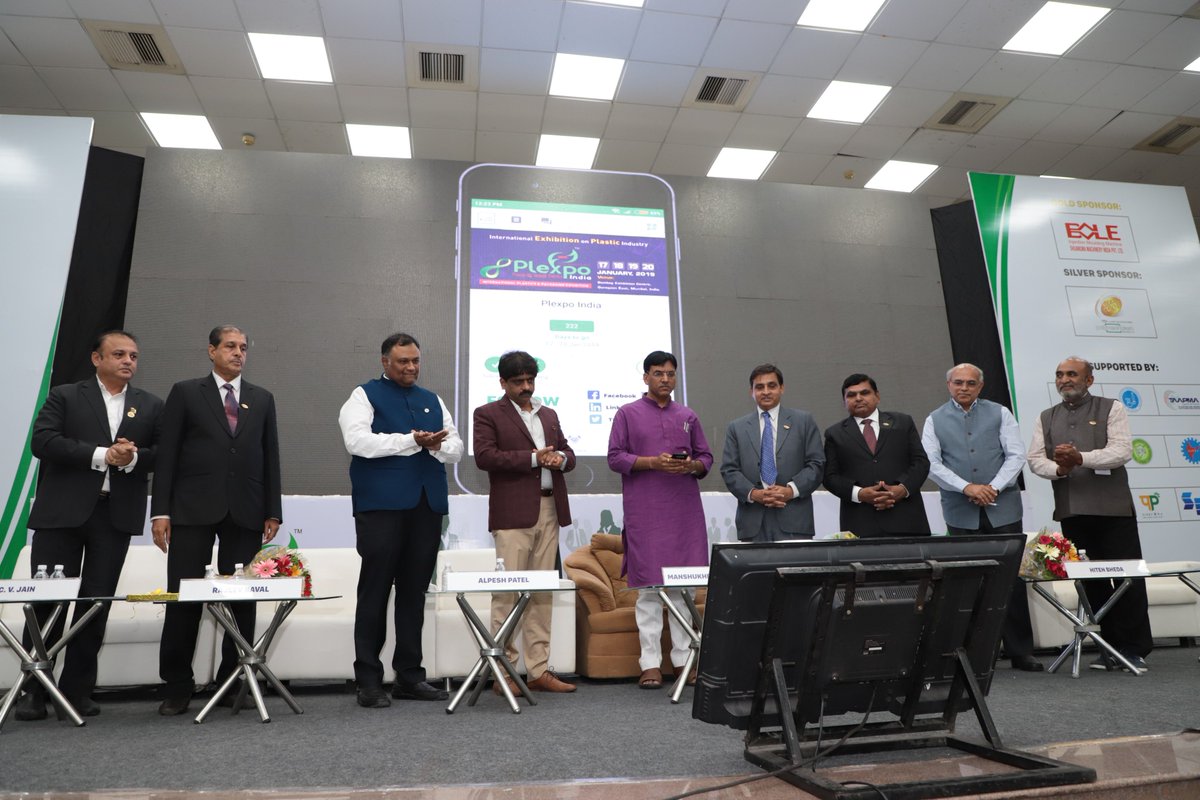 PlexpoIndia 2019 devoted to promote excellence in the field of plastic processing and making Gujarat & India a preferred sourcing base for plastic processing machineries and plastic product from Plexpo India 2019 has been showcase of Investment Opportunities, Latest Technologies and Manufacturing capabilities.
Reasons to Exhibit
Expected participation of over 500 exhibitors from across the globe.
A wonderful opportunity to network with decision makers and delegates from the Indian as well as Asian, African, European Middle Eastern & USA Region.
Cost effective & targeted medium to showcase your latest products & technologies.
To expose the industry and potential investors to the latest trends and technologies available.
Expand your network of Industry contacts & develop new customers and meet industry experts of the globe.
Key Features of 8th PlexpoIndia 2019
1000 exhibitors from all over the world.
Participation from 20+ countries with 1, 00,000+ business visitors.
Live demonstration of Plastic Machineries for Moulds, Printing, Packaging Products etc.
Emerged as one of the top Indian plastic exhibition.
To be mounted and spread across 25,000+ sq. meters area.
Business worth 2500 crores expected to be generated.
Visitors & Buyers expected from over 10+ countries
A grand hub to explore everything related to Plastic world.
Exhibitors Profile
Raw Materials:-

Polymer and Resins
Additives, Adhesive & glues
Coating compounds
Intermediates
Blend and Alloys
Master batches, Additives, Fillers
Chemical intermediates, Colorants
Dyes & Dye stuff, Fillers / Fine / inorganic chemicals
Foams & intermediates, Master batches, Petrochemicals
Resins intermediates, Reinforcing fibers & materials
Synthetic fibers, Starting materials & intermediates
Thermo sets & Thermoplastics
Printing:-

Adhesives and Glues
Applications for Nanotechnology
Applications for Printed Electronics/ Printed Functionalities
Chemicals
Coatings / Varnishes
Control, Feed-back Control And Drive Technology
Data Processing Services
Digital Offset Printers
Digital Printing Machines and Digital Printing Systems
Encoding and Identification Materials
Encoding and Identification Systems
Films / Foils
Flexographic Printing Inks
Flexographic Printing Machines
Gravure Printing Machines
Hybrid Printing Machines
Machine Transportation and Machine Mounting
Measuring and Testing Equipment
Measuring and Testing Tools
Offset Printing Inks
Pad / Tampon Printing Machines
Print Heads and Technology Software
Printing Machines and Systems for Special Printing Applications
Research and Development
Rollers, Cylinders and Sleeves
Screen Printing Machines
Sheet-fed Offset Printing Machines
Textile Printers
Trade Directories
Used Machinery Dealers
Ventilation Systems
Wide Format Printers
Machinery and Plant for Processing:-

Moulding Machines
Plastic Process Machineries
Injection moulding machines
Extruders & extrusion lines
Blow molding machines
3D Printing
Mould& Dies
Auxiliary / Ancillary equipments
Die Casting Machineries H.D.P.E. Pipe PVC Pipe
Electric Ind. Heaters
Water Storage Tanks
Gear Box
Bottom Sealing & Cutting Sealing Machine
Multi-Layer Film, LDPE, LLDPE
HMHDPE Monolayer Plastic Plants
Packaging Machines
Shrink Film Plant
Lamination Plant
Screw Barrel
Measuring, control & test equipments
Rotating molding machines
Welding machineries & accessories
Recycling
Electrical & Electronics
Plastic Pipe Plant
Plastic Grinder Machine
Bending & Folding Machines
Bag & Sack making equipments
Cutting Machines, Printing, Packaging, Plating, Lamination, Plants
Splitting machines, Peeling machines
Thermoforming machine
For more information, visit http://www.plexpoindia.org/
Popular Reads:
Express Food & Hospitality - Tradeshow to Reveal New Flavors and Mouth-Watering Dishes in Mumbai
Facility Management India Expo 2019 to take place at White Orchid, Bengaluru