The Best Wedding-Centric Films Of This Decade
18-Dec-2019
Although wedding-set films have been overused in some of the more cliche romantic comedies, there are a few films that do the genre so right, you'd think you were a guest at the wedding ceremony. If you're preparing for your wedding or just want to bask in the cinematic glow of a well-crafted love story, here is a list of the best wedding movies of all time.
Band Baaja Baarat:
A chance and inopportune meeting bring Shruti and Bittoo together on a tumultuous journey where they become partners in their very own, own wedding planning business in Delhi. Together, their friendship and business enter the ups and downs of the lavish Delhi weddings. And while trying to find themselves, the process lets them discover their love for one another.
https://www.primevideo.com/detail/0G0VMWL6S3PXAE8MX48JNF9EU5/ref=atv_sr_def_c_unkc__1_1_1?sr=1-1&pageTypeIdSource=ASIN&pageTypeId=B01MA51MQ3&qid=1576663476
Tanu Weds Manu And Tanu Weds Manu Returns:
The part first of the movie witness the protagonist, Manu comes to India to find a bride for himself and falls for Tanu at first sight. But Tanu, a free-spirited girl has no plans of marrying him at first, but like a happy Bollywood movie, she ends up marrying him. The second part of the film carries the story forward showing the next chapter in the couple's life. After four years of stormy romance, the romance between the two has died. The couple complains bitterly about each other to marriage counselors and what follows is both hilarious and overwhelmed.
Bridesmaids:
Competition between the maid of honor and a bridesmaid, over who is the bride's best friend, threatens to upend the life of an out-of-work pastry chef. This movie is the best one of the bunch for both laughs and "What Not To Do" lessons. It reminds you that spicy food is probably not best before a dress fitting, the more personal the planning, the better, and that competition amongst bridesmaids is a little silly.
Veere Di Wedding:
Four friends reunite in Delhi, where one of them is due to marry. But things don't go to plan. Together they brave through overbearing future parents-in-law, questionable life decisions, fights, and a mandatory bachelorette trip to Thailand. And on their way to find true love discover that friendship this strong has its consequences.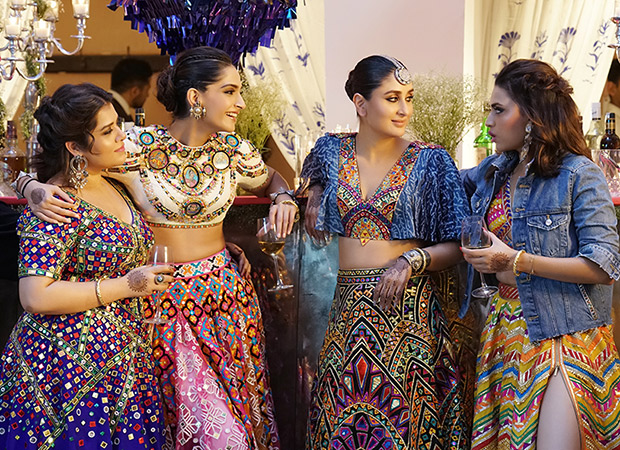 Crazy Rich Asians:
This contemporary romantic comedy, based on a global bestseller, follows native New Yorker Rachel Chu to Singapore with his boyfriend to attend his best friend's wedding. It's only when they're escorted to the luxurious first-class of their flight bound towards the East, that Rachel realizes that Nick is not just rich, but crazy rich. The movie re-introduced the classic makeover montage in modern-day rom-coms and gave us a memorable wedding sequence where the bride walked on water while the guests sat surrounded by greenery
Bachelorette:
A bride who wants to keep her bachelorette party in New York City relatively tame, but when her jealous bridesmaids (Kirsten Dunst and Isla Fisher) ruin her wedding dress by drunkenly both trying to fit into it at once, the party's mission becomes about saving the gown, which also acquires some R-rated stains. Along the way, the ladies' evening includes plenty of booze and ex-boyfriends, plus a plethora of cursing. Things get so rowdy that one bridesmaid almost doesn't make it to the wedding the next day.
Popular Reads: