Most Haunted Tourist spots In India
06-Jan-2020
India, like every other place, has its fair share of haunted places.
From Bhangarh Fort in Rajasthan, where no one allowed to go in after sunset, to Ramoji Film City in Hyderabad where spirits haunt women more than men, from Kuldhara, the abandoned village of Rajasthan, to the royal palace of Shaniwar Wada in Pune, where cries of an assassinated prince are heard at night, all these places have a spooky tale to tell.
Even if you don't believe in ghosts, these places and their stories make for a fascinating interesting read. People who visit these places often come back with their own experiences of either having witnessed or felt something, or just having an eerie feeling but not really seeing anything.
We have compiled a list of the 10 most haunted places in the country that can send a chill down your spine.
Kuldhara
If you have done the royal tour of Rajasthan, visit Jaisalmer this time, to admire the hauntingly beautiful Kuldhara village.
About 200 years ago, on a fateful night, the villagers of Kuldhara who belonged to the Paliwal Brahmins community, fled from their homes, leaving behind their land and property.
To really test if Kuldhara is haunted, some people from Delhi's Paranormal Society spent a night here and not only did they record unusual activity on their devices suggesting the presence of spirits in the area, some of them also spotted shadowy figures in the night and were tapped on their shoulders by someone when no one was really around.
Some spirits also revealed their names to the members of the society. Such spooky incidents just add to the story of Kuldhara.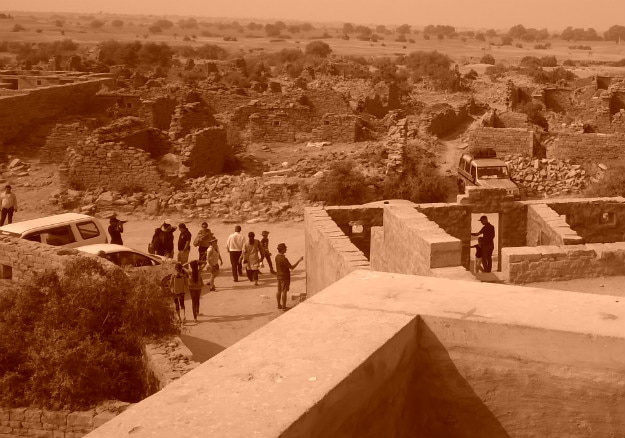 Mukesh Mills
Mukesh Mills is a popular location for TV serials and Bollywood films. Located in Mumbai's tony Colaba area Mukesh Mills takes you back in time with its dilapidated structure and warehouse-like look.
Mukesh Mills was once a thriving mill when it opened its doors in the 1870s. Its location right next to the Arabian Sea made it apt for ships to dock here for loading and unloading of cotton and yarn. The mill, however, went out of business in the 1980s when the workers struck work. The mill was later shut and then an unexplained fire broke out in Mukesh Mills which left it in the condition it now is.
According to crew members and even actors who have worked here, there is something spooky about this location, so much so that shoots wrap up before sunset as no one wants to be here late night. People have allegedly heard strange voices, things are reported lost and on one or two occasions, people suddenly seem to get possessed. These occurrences have been reasons enough to avoid shooting here at night.
Malcha Mahal
Malcha Mahal is situated on Bistdari Road, Delhi. Malcha Mahal was given by the government to Princess Wilayat Mahal, a descendant of the royal family of Awadh. Princess Wilayat's property was seized by the British and she was homeless with two of her kids. She fought with the Indian Government to get her land back but nothing happened for nine years and then when she landed back the Mahal was Infested with insects, dilapidated and rundown, it was completely unfit for any human. Her children continue to live there along with dogs who protect the house.
The eerie story of how these two humans have survived here for so long in a place that does not have any electricity, water supply and is surrounded by trees in a forest is chilling. They wear only black robes and the brother sometimes goes out on his bicycle to buy food and supplies. They talk to no one and there is a board outside Malcha Mahal that clearly states that trespassers will be shot down.
Shanivaar Vaada
Shaniwar Wada is in Shaniwar Peth in Pune and it is open for tourists from 8 am to 6.30 pm. The story involves Peshwa Narayanrao who was all of 18 years when he came into power. Among those who were jealous of Narayanrao was his aunt Anandibai, wife of the regent Raghunathrao, who wanted to be queen but she couldn't as long as he was alive. So, she successfully brainwashed Raghunathrao into issuing an arrest warrant against the young Peshwa. In what is a well-documented tale in Maharashtra's popular culture, she blotted out the warrant in a way that it read as an execution order. Armed with the document, the guards attacked the young prince who fled his chambers and ran towards his uncle begging his life to be spared.
Unfortunately, before his uncle could save him, Narayanrao was assassinated, by some accounts, right before the eyes of his hapless uncle who till that very moment believed that he had merely issued an arrest warrant against his nephew. It is believed that the spirit of young Narayanrao still haunts the fort and his cries can be heard on a full moon night. His last words, 'Kaka mala vachva' or 'Uncle, save me' are sometimes heard in the middle of the night by people who work here. Tourists might not find anything spooky during the day, but the night gives Shaniwar Wada an eerie feel.
Rajkiran Hotel
The hotel is in the main city of Lonavala and you will find a bustling market in the area. You can find the hotel on the main road itself.
There is one specific room in Raj Kiran hotel, on the ground floor, next to the reception. This is the room that is believed to be haunted. After several guests complained about it, the hotel staff decided to lock it down and never rent it out to any other patrons unless it was really required.
So what is it that spooked people out in this room? Some say they saw a blue light near their feet at night while some felt someone was watching them even though there was no one in the room. For some guests, it was more extreme when their bedsheets were pulled off at night even though they woke up to find no one around. Those who have stayed in this room have often asked for a change of room.
Dow Hill
This is a hill station located in Kurseong, West Bengal. Dow Hill has many spooky stories and each is more haunting than the other. There is one of a headless boy who roams in the forest. And then there is another of a woman who roams around in a sari. Dow Hill also houses Victoria Boys High School which is over a century old and is believed to be haunted. Locals say that they can hear footsteps and shrieks and laughter of children even when the school is shut during vacations.
They believe the spirits of some children roam in the school. As the sun sets, one can feel the spook in the air. It would be wise to stay indoors or go out with a local if you want to explore the hill station at night. Avoid going into the forest as that is where these things appear often.
How much of it is true, we can't say but those who have experienced the presence of something supernatural cannot really forget about it.
The Three Kings Church
The Three Kings Church is in south Goa in the Cansulim village. You will not find many tourists here and there is usually dead silence in the night.
The village was ruled by three Portuguese kings back in the day. However, each of them was jealous of the other and wanted to become the sole ruler of the village. They often quarreled about this matter but never found a fitting solution for this problem. When things started to get out of hand, they decided to discuss and resolve the matter once and for all. One of the three kings invited the other two to his home for dinner with the pretext of discussing the matter.
What they did not know was that he had poisoned their meals so that they would die and he would rule the village. And as planned, the other two kings died as soon as they had their meals. The ecstatic king now thought he would rule the entire village alone but soon the news of their death spread and the villagers got to know what really happened. The king was now scared that he will get lynched by the public and so he too decided to have that poison and commit suicide. He did so and when the villagers barged in, they found the bodies of the three kings.
They decided to bury all three of them together in the church itself. It is believed that the spirits of these three haunt the church even today. Even though they haven't spotted anything strange as such but the eerie feeling of something supernatural surrounds the church especially at night.
Bhangarh Fort
Bhangarh Fort is in the Alwar district in Rajasthan. You can visit the fort until 6 pm every day. Bhangarh is perhaps one of the most haunted places in India. It is in Rajasthan and has been declared an unsafe place to visit at night even by the government. The Archaeological Survey of India or ASI body has even put up a sign outside Bhangarh Fort to warn tourists and locals alike to not enter its premises after sunset and before sunrise. Even though the government may not openly acknowledge the presence of any supernatural power here, the board says it all and is enough proof that there is something that should not be played with.
As two tales go behing the spooky place, one is about Bhangarh being cursed by a saint and the other one goes by Bhangarh being cursed by a schmitten wizard. All yester people there might be dead, but the spirits of these people, including the wizard's and the princess' roam the fort's interiors. They do not let anyone inside and if someone does go in, they don't come back alive. The spirits are so strong that there is a signboard warning people not to go inside post dark.
Popular reads: