The Indian flautist Naveen Kumar shared his expertise at Whistling Woods International
08-Sep-2018
Whistling Woods International hosted 5th Veda Session last week, invited the Indian flautist, music composer and singer, Naveen Kumar, who was invited to share his expertise with students at the 5th Veda session.
Music-genius Naveen Kumar is globally admired for his excellence in playing a varied range of flutes. Besides being a recording artist and a music producer in the Hindi, Telugu and Tamil film industry, Naveen has also had a long association with the music maestro – A.R. Rahman.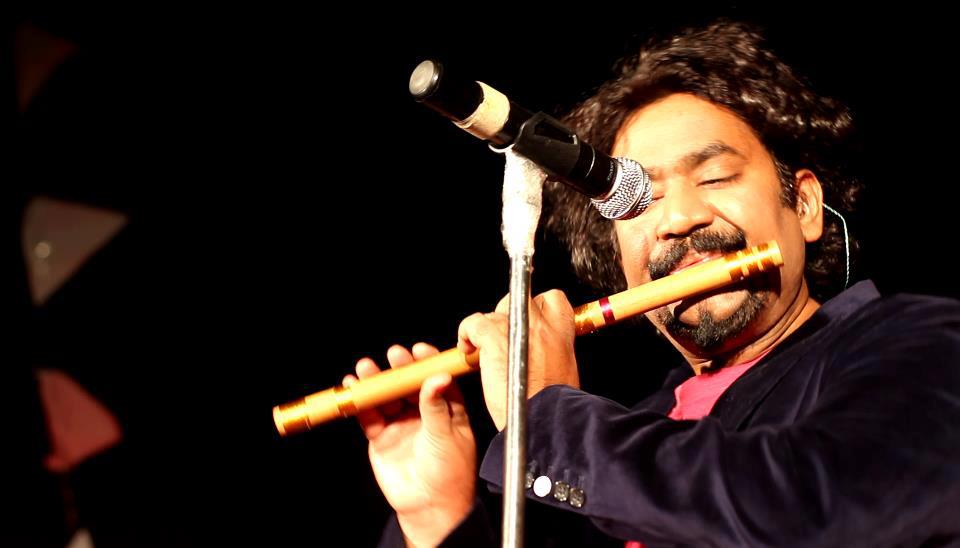 Naveen Kumar entered to the session playing the song Dil Hai Chhota Sa and created a musical atmosphere. In a heart-to-heart conversation with Subhash Ghai, the celebrated flautist shared his journey in the field of music and narrated stories about his collaborations with legendary musicians like Shankar, Ehsaan & Loy, Salim-Sulaiman and Pritam Chakraborty, among others.
Recollecting the memories about the connection that led him to play the flute, Naveen said, "I got an opportunity to play the flute in one of my school functions. And since my dad played the flute, he helped me in preparing for it." Further explaining his love for the music instrument, he added, "For me, I enjoy the noise which comes out of it. Though I don't have words but flute has a feel and soul in it."
Further, in the session, the talented artist spoke about the inception of 'The Naveen Flute'. He said, "I was practising in one of the studios and I heard the strings of other instruments reacting to the music created from my flute. So now I have inserted a few strings in my flute too and I am still trying to make the best version of the Naveen Flute."
Naveen played various flutes for students, discussed the technicalities involved in playing each one of the instrument, and educated the students on creating classical notes and ragas. He explained the difference between Indian, Chinese and Japanese flutes. Also he spoke about his most favourite flute out of his exquisite collection.
Naveen played Hulsi- Chinese, Von Ton flute- Middle East, Ullas- Switzerland, Sakhu Haji-Japanese, Rave Drums-Russia, and Glass flute -created by himself. He gave inputs about the present day innovations in the field and shared details about 'flutronixs'- a contemporary fusion of techno music with flute.
The session followed with a Q&A round where the students asked a few questions and attained further knowledge about music from the legendary flautist. As a departing word of advice for aspiring music enthusiasts Naveen said, "Be a singer or a composer, the music should come from inside. Put your best, practise hard and take this subject very seriously. Also, remember to learn the basics, it is extremely important."
With a burst of applause and a standing ovation, Naveen Kumar was felicitated with a token of appreciation by Sangeeta Shankar- HOD, WWI-School of Music.
Popular Reads:
YouTube to start Originals in India starting with the Show of A R Rahman
High Rated Gabru Tour To Make A Debut In Kuala Lumpur