Blue Star turns 75, and this is the ad film launch on the occasion!
30-Oct-2018
India's leading air conditioning and commercial refrigeration company, Blue Star Limited has achieved a significant landmark by completing 75 successful years of operations.
On the occasion of the Platinum jubilee of the company, Blue Star has rolled out its latest ad film that is just not a celebration but a reflection of what has been achieved in all these years.
Over the past 75 years, with its wide range of products and services, Blue Star has served several industries in India and abroad. People and industries have come to depend on Blue Star for a variety of needs over the years, and it is perhaps this trust that has turned a modest enterprise into a global entity.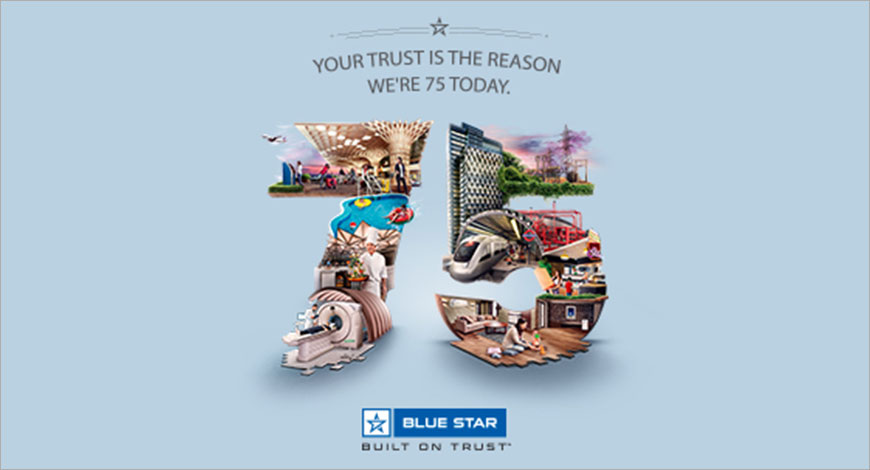 Blue Star aims to communicate this trust by way of this film, showing people from homes and companies leaning on them. It's a metaphor for the reliability and dependence that their customers have reposed in Blue Star over the years.
Watch the ad film here:
B Thiagarajan, Joint Managing Director, Blue Star Limited says, "Blue Star is much more than air conditioning and refrigeration, with its presence extending to electrical, plumbing, fire-fighting projects as well as facility management, and water-air purification, amongst others. The brand caters to a wide range of residential and commercial customers, along with being market leaders in several categories."
About the 75th anniversary, he said, "We are proud to be celebrating our 75th anniversary this year, and the new TVC attempts to showcase our multi-faceted identity. The ad conveys, in a subtle yet evocative manner, that our pedigree over the decades has been built due to the trust that our customers have in us, with a focus on our new tagline 'Built on Trust', and a promise to keep reinventing ourselves as we move forward towards our centennial."
Robby Mathew, Chief Creative Officer, FCB Interface, said, "Very few people are aware of Blue Star's omnipresence in India. They rely on Blue Star's products and services on a daily basis without actually knowing that they are doing so. The creative task was to simply bring this alive. And with the invisible Blue Star Expert we were able to do just that."
Popular Reads:
SPNI launches #ChhodnaMat campaign for India vs. Australia series
Swiggy unveils its New Television Campaign