The luxury patisserie-Enchanté in New Delhi inaugurated by Master Chef Ajay Chopra
15-Nov-2018
Academy of Pastry Arts India, an esteemed group of Professional Culinary & Pastry Schools with Pan- Asia presence, launched its exclusive Pastry Shop 'Enchanté' at 5A, Khan Market, New Delhi. The shop was recently inaugurated by the world-renowned celebrity chef and a culinary expert Master Chef Ajay Chopra.
The first of its kind exclusive pastry shop 'Enchanté' will be run by a group of trained experts and master chefs from the Academy of Pastry Arts India.
The ambiance of Enchanté' will give its customers the perfect reflection of 'Luxury Patisserie', with a chance to taste most delicious pastries, cakes, desserts, cookies and more prepared by the best-in-class chefs and trained pastry experts. The decades-long experience of the experts from Academy of Pastry Arts' Master Chefs and their long line of success in providing top-of-the-line training courses to aspiring bakers and pastry chefs will take the shape of reality at 'Enchanté'.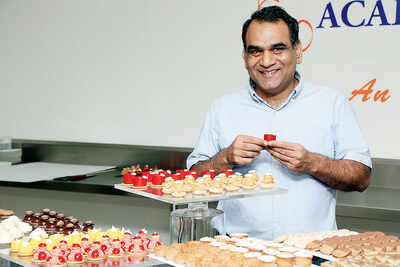 (File Pic – Chef Niklesh Sharma)
At the launch of Enchanté, Chef Niklesh Sharma, Co-Founder & Executive Pastry Chef, Academy of Pastry Arts said, "Our first initiative 8 years ago has landed many success records and now with 'Enchanté' – Luxury Patisserie coming from the folds of Academy of Pastry Arts we will create our righteous place in bakery and pastry market as well. The use of cutting-edge technology by our master chefs and trained experts, mixed with ingenious techniques will exhibit our top-notch pastry dexterity."
(File Pic – MasterChef Ajay Chopra)
MasterChef Ajay Chopra, said, "Academy of Pastry Arts is exponentially growing since its inception in 2010 with its flagship schools all over India and overseas locations. The launch of 'Enchanté' as the first pastry shop that presents the finest pastries, bread, cakes, and desserts is a true celebration for all sweet lovers. I feel proud to be a part of the grand launch of the luxury patisserie shop in New Delhi. I also wish it marks a new beginning in the growth of Academy of Pastry Arts for many more milestones of success to come."
Popular Reads:
Mary Kom excited about Manipur Sangai Festival 2018 invites attendees in mass
No heavy truss work needed to erect and assemble event structure anymore