Singapore Tourism Board launches second wave of passion made possible campaign with music video
23-Nov-2018
The second wave of the Singapore Tourism Board's (STB) 'Passion Made Possible' brand campaign for India kicked off with an event with lot of fun and entertainment happened in the city as the ultimate party destination under the title '#PartyLikeInSG'.
Focusing on the Socialiser tribe offerings available in Singapore, the campaign was launched for the travel trade, media and influencers. Last year, STB had built a campaign around 'passion tribes' catering to audiences segmented by interests such as foodies and collectors.
According to the STB, cultural shapers enjoy immersing themselves in arts and culture to gain new perspectives, action seekers are always chasing the next adrenaline rush and socialisers enjoy the energy of the nightlife and entertainment scene and how music enables them to blend these experiences together. The current campaign targets the socialisers segment.
The STB launched the new brand identity 'Passion Made Possible' in August 2017 to showcase the destination's unique attitude and mindset; a passion-driven, never-settling spirit of determination and enterprise that constantly pursues possibilities and reinvention. For its second wave, the campaign will shine spotlight on the Socialiser, Action Seeker, and Culture Shaper Passion Tribes to encourage Indian travelers to indulge their passions in Singapore.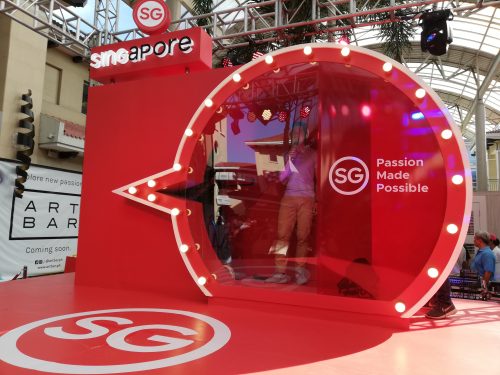 Speaking at the launch, Mr GB Srithar, Regional Director, South Asia, Middle East & Africa, highlighted the importance of why the Socialiser tribe would be appealing to Indian consumers, "We are keen to engage the young and fun-loving Indian travellers. Show them a different side of Singapore, in addition to being a great family destination. From the coolest indie gigs and the biggest international concerts, to eclectic music festivals, raves and jazz nights, Singapore has a diverse and vibrant music and event scene. This will appeal to the lifestyle and entertainment seeking travellers. As we launch Wave 2 of our brand, we invite our Indian visitors to come make new friends or re-connect with old ones through the myriad of nightlife and entertainment offerings in Singapore."
The campaign launch was held at Verbena Brewpub & Skygarden in Kamala Mills. The event featured performances by Singapore's noted artistes – Wayne Liu aka DJ KoFlow, the turntablist icon and Yung Raja, popular rapper signed to M03 Records, a division of Kartel Records, who mixes his lyrics in both English and Tamil.
The event also showcased the original Singapore Sling mixed by bartender Andy Lim from the Raffles Hotel while culinary expert Ruqxana Vasanwala, founder of Cookery Magic which conducts cooking classes, provided her unique twist on local Singaporean delicacies such as Pisang Goreng (Fried Bananas) and Onde-Onde (Pandan-flavoured Glutinous Rice Balls with Palm Sugar) tapas-style.
STB also collaborated with music channel VH1 for its first ever music video in India titled Unstoppable featuring Grammy-nominated Indian-American rapper, singer and songwriter Raja Kumari, electronic music act MidivalPunditz and Singaporean B-Boying crew RadikalForze.
Watch the video:
The music video which has garnered almost 2.6 million views on YouTube. The music video highlights their unique talents and common passion for creativity, music, sounds, dance and entertaining audiences. The music video was shot against well-known locations in Singapore such as the Marina Bay area, Chinatown precinct including the Buddha Tooth Relic Temple, Gardens by the Bay as well as Henderson Waves.
The second wave will witness a series of consumer events and industry partnerships rolling out by mid-2019.
Popular Reads:
Mary Kom excited about Manipur Sangai Festival 2018 invites attendees in mass
No heavy truss work needed to erect and assemble event structure anymore