Hyderabad Wedding Hall Disaster Kills Four Guests
11-Nov-2019
A wedding in Hyderabad turned into tragedy when a wall collapsed at the function hall, killing four people and injuring others. The incident took place at Golnaka area of Amberpet in Hyderabad on Sunday.
A wedding was taking place at Pearl Garden's function hall in the afternoon. As the guests were going down the adjacent dining hall for lunch, the wall that was behind the dais of the hall collapsed and the rubble fell on the other side of the stage. Of the five, identified as Sohail (30), Krishna (60), Vijayalakshmi (60) and Suresh (35), one person was declared brought dead and three others died while undergoing treatment. Another person Mohammad Majid, who also received severe injuries, is undergoing treatment and his condition is said to be stable. Around ten motorcycles and two auto-rickshaws that were parked along the wall were also damaged.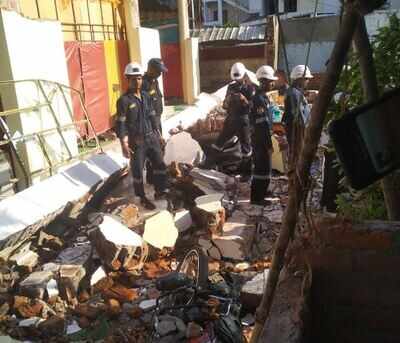 East Zone deputy commissioner of police M Ramesh Reddy said, "Five persons, including a woman, were caught under the debris. The police from Amberpet police station rushed to the spot and took up rescue operations. We shifted the injured to Osmania General Hospital,"

He added the marriage hall was recently renovated with the owner constructing a new wall to create a space for parking. "It was the first function being held after the hall was reopened after renovation. We shall take action against the function hall owner for his negligence in ensuring quality construction".
Greater Hyderabad Municipal Corporation Mayor Bonthu Rammohan announced ex gratia of Rs
2.50 lakh to the families of those killed in the wall collapse. Deputy Mayor Baba Fasiuddin who visited the families of the victims at the hospital stated, "The foundation was so poor that it could not take the weight and resulted in the tragedy. The wall was constructed without any structural support for elevation. They put a beam on the wall, which had no foundational support and placed a glass facade on it."
The police registered a case under Section 304 A (negligence causing death) of the Indian Penal Code against the hall owner, Md Nawaz, who is currently absconding. The police said "Teams are formed to nab the accused," Deputy Commissioner of GHMC, Amberpet, Venugopal said that the function hall owner did not have permission for renovation.
Popular Reads: