TN Collector Breaks The Norm By Organizing An Eco-Friendly Wedding.
15-Nov-2019
Indian Weddings neither go out of fashion nor out of the discussion. Wedding trends are always the talk of the town, and although new trends come up now and then, there are only a few that have the potential to go a long way. But the one trend that always makes a huge impact is an eco-friendly wedding just like the one the special deputy collector in Kancheepuram and native of Tiruchy, Selvamathi Venkatesh, organized for her son, Balaji
Considering the fact that an impressive amount is spent on each wedding invitation, which loses its significance once the wedding is over, Venkatesh chose handkerchiefs to print her son's wedding cards. According to her the wedding cards are remarkably expensive and are thrown into the dustbin after the wedding. She always used to feel bad when she saw fancy wedding cards, as they serve no purpose.
Also at the print from the handkerchiefs will go away in two to three washes and it will be good as new to use. The invitations were placed in a small pouch printed with beautiful designs that can be used by the women later.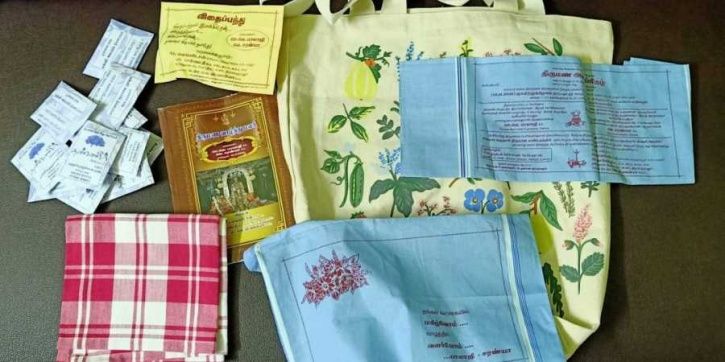 Weddings don't tend to be hugely eco-friendly events, but there are lots of ways one can reduce carbon footprints. Keeping this in mind, she chose to keep steel tumblers instead of using plastic, and paper napkins were replaced by provided cotton towels. The guests were also given a cloth bag, two seed balls, and a cotton towel as return gifts.
The family had 2000 seed balls made for the guests that combine seeds of vegetables, Neem and teak trees. There were instructions printed about planting the seed, on the seed balls cover so that people don't throw it.
Popular Reads: