Akshay Kumar & Twinkle Khanna to appear first time in ad directed by Karan Johar
24-Nov-2018
Adani Wilmar Limited, the largest seller of edible oil brand Fortune in the country, announced the launch of Fortune Biryani Classic Basmati Rice. Fortune launches a new category of basmati rice that is of superior quality and specifically processed to give best results for cooking biryani in the Indian household.
Also, Adani Wilmar launched a new TVC for Fortune Biryani Classic Basmati Rice. The TVC is featuring the Bollywood couple Twinkle Khanna and Akshay Kumar. Conceptualized by Triton Communications and the film, and directed by popular director Karan Johar under his home production, Dharma 2.0.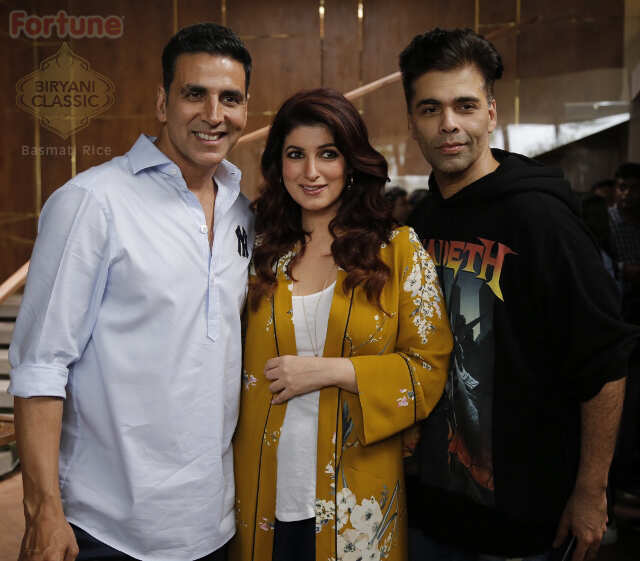 The ad campaign serves up, "AtootPyaar" – Unbreakable Bond between Akshay Kumar & Twinkle, symbolized by the unbreakable strands of basmati rice in Fortune Biryani Classic.
The ad will be aired on 25th Nov 2018, and will be extended across the digital medium. The new integrated campaign will have a multi-pronged approach, with reach on TV, in-store and across digital and social platforms.
The ad opens with Akshay Kumar donning his chef hat, cooking biryani using the Fortune Biryani Classic Basmati Rice, as a gesture of love for Twinkle Khanna. The secrets to a happy married life, symbolized by – stay together but also give space to each other & then your relationship will blossom; are in sync with the unbreakable strands of Biryani Rice, which stay long even after cooking, retain their aroma as they are aged for 2 years.
Angshu Mallick, Deputy CEO, Adani Wilmar said, "Fortune promotes the importance of home cooked meal given the health benefits and emotional values attached with our customers. We continue to deliver the best cooking experience for the Indian household with our premium range of products. With the launch of Fortune Biryani Classic Basmati Rice, we aim to enrich the experience of consuming home cooked biryani for our customers."
The premium quality rice is specially processed to simplify the process of cooking biryani at home with each grain perfectly cooked, fluffy and separated, delivering the most authentic biryani taste.
This is the first time that Karan Johar has directed Akshay Kumar & Twinkle Khanna. Fortune Biryani Classic Basmati Rice is available in stores and is priced at Rs.210/- per kg.
Popular Reads:
The luxury tent by The Ultimate Travelling Camp at Kumbh 2019
To spread the message of Eat Right, FSSAI announced Eat Right Awards