Lighting Tricks to Make Events Appealing and Awesome
30-Oct-2018 Author : Category : Trends & Event Ideas
Lightings are the lifeline of events. Setting up a right tone for events with varied lighting is a state-of-the-art owned by only a handful of event decorators. They have established themselves as Pablo Picasso and Leonardo-da-Vinci of events. They stand-out from the pack owing to their un-match skills and un-scaled imaginations.They know very well how to convert rigid lights into an enigmatic lighting aura by angling them at the right degree.
Just as no two events are similar in their proposition the lightings would not be the same. The lighting shades for a professional corporate event would be different than the glamorous fashion show. The science of lighting effect revolves around four dimensions reflection, refraction, diffraction, and scattering.
Let's see skills of few decorators who nailed down event creating awesome and appealing lighting effects using these dimensions.
1. Pin-Spot Lighting
In events, there are many special items that require spotlight and pin lighting, it will help them bring on the surface. After spending a lot of money on decor, centerpieces, or a wedding cake, you don't want them to go un-noticed. Spot lights typically cast a single beam of light no wider than 45 degrees to understand whether a spot or wash is appropriate for your event, check video here
Brighter doesn't always mean better, on range of 1-5, for spotlighting 3 can give wonderful tone and run time of 10+ hours.
About 2-3 pin spots will be enough to lit one centerpiece on the venue
Pin Spotlighting in conjunction with uplighting will allow decor to stand out but modern day event even opts for the hybrid wash, spot and beam fixtures.
2. Uplighting
Uplighting is preferable to light ceiling or walls that are less shiny or light reflective for instance, walls made of bricks or stones. If set at proper angle it will taint area covered through pillar to post, and will create a miracle with its incandescent lighting.
To set effective uplighting, remember to place light source close to the pillars, podiums, and trees.
Choose color combination wisely and more importantly, if color is too bright use ARRI Full Double Scrim that fits the 150W Fresnel to reduce the light intensity.
Uplighting does not always mean positioning straight up. Angling light fixtures or placing them asymmetrical should create more attractive and intensive look.
3. GOBO Lighting (breakup gobo pattern)
Gobo lighting is one of the oldest stage lighting effects and is still in trend. A gobo is traditionally a piece of metal placed against a light source, with shaped holes cut into it to produce a pattern of light. If your event venue is a tent, you can project gobo over the tent to transcend event into the scintillating theme from above.
When the distance between your gobo and light source increases, the shadows will get distorted. For sharp gobo image, try to get the light source as close as to 90 degrees to the surface you are projecting
When the projection angle exceeds 30 degrees"keystone correction" is required adjusting the angle of light for correct image projection
To ensure that stage performer don't hide behind designer GOBO use 3 point lighting or McCandless System, where two lighting fixtures are placed in the front of the subject at a 45-degree, each from left and right and one fixture behind him.
4. Under Water Lighting
Pool side party or event is common culture observed to drizzle guests in a mellow mood. If there is a water body around your event place half of your décor is done, the rest half is done using some artistic lighting effect from the water depth.
Underwater pool lighting will have a beam pattern of 30 to 45 degrees. When lighting a pool or pond, it is best to use a wide angle beam.
To achieve secondary mural effect due to water reflection on the wall or structure around the pool, direct the underwater lights in a more parallel direction to the structure's surface to achieve the desired effect.
Water absorbs different wavelengths of light to different degrees, it means at certain depth some colors will fade. For instance, red disappears at 15ft, orange at 25ft, and so on. So choose a distance and light color for under-water wisely.
Install lights in the branches and trees overhead to mimic a natural moonlighting effect.
5. Roof Lightings
Roof lighting can lift event space brilliantly if lights arranged in a specific manner. It will emerge event roof with a soft glow. The choice of roof design also matters for lighting, for instance suspending roof drapes from roof could justify light effects better than plain roof especially if the event is organized under tent or dome.
Ceiling gives freedom to play around the light patterns and light decorators, for which you can use PAR Floodlight, Fresnel Spotlight, Ellipsoidal Strand and many other light sources
Colored LED mix on a ceiling from a much distance can yield a multi-colored shadows that don't get with a single-colored. So maintain a proportionate distance while using multi-color lights
A hanging frosted glass globe could be a bonus to further elevate the event space.
6. Lights Over Sitting Space
Focus lights could be used to highlight intimidating sitting area and guests during events. Rather illuminating centerpieces and garden with lights why not turn event sitting area as a centerpiece.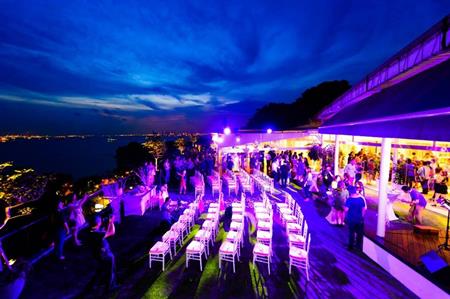 Overhanging Fresnel lights are ideal for highlighting a particular area in events. It emerges soft light, that you will be able to change the spread over with a knob or crank
Ensure all fixtures have same lenses or beam angles
Project lights from sideways for maximum coverage and keeping direct lights hitting the guests eyes
7. Aqua-reflection
Aqua LED Waterwave Effect Light is multi-coloured flowing water that will wash event crowd with its tranquilizing effect. The small episode of waves will add depth to your event celebration and fills open spaces elegantly.
Hang a few blue colored lights near the ceiling as well as add few uplighting near pillars. Then drape translucent shimmering pale blue fabric across the lights. This way, when people look up, they see the rippling 'surface of the water' above them reflecting the distant stars
Projectors like X-effects LED projector and CR Lite Aqua can add the desire water ripple effect for event theme and with color wave gobos it will create unique, color-blended lighting effects
For best result, position projector on the floor just in front of a backcloth or piece of set.
8. Color Wash
Color wash effect spreads a blanket of particular color on the entire area of the event and in middle blossoms the floral centerpieces with a tint of theme color. Usually, floodlights and uplighting in combination are used to create color wash effect. Color wash does not support patterns, beam adjustment or any other accessories except color and diffusion.
Cyc lights and border strips are excellent for washing backdrops as well as for the scenery with color
Focus your lights one at a time to create zone symmetrical of center. The light should overlap a few feet from zone to zone so that there are no dark spots left. You can use light meter to see any particular spot is lighter or darker.
In case, lighting position is not even, adjust faders to make the wash more even throughout the venue
9. Customized Monogram
Custom monogram is an upgraded version of Gobo lighting to entice guest mood crafted with personalized message. It gives a personal touch to host by projecting name, event date, monogram an/or your choice of design elements onto a wall, floor or your choice of canvas. You can move your monogram to the event's key places and add other advanced effects.
Gobos look elegant with opposite color to the wash on stage or on the dance floor
Placing Gobos inside intelligent moving lighting could leave dramatic effects on the surfaces of your venue
Breakup gobos provide texture and shape to enhance large area washes or to make scenic pieces fit into the production more seamlessly.
10. Intelligent lightings
Sky is the limits for intelligent lightings. Intelligent lightings or augmented lighting regulate different parameters for lightings viz color, pattern, focus, prism, movements, rotation speed and animation to add special effects. It flickers and reflects lights to musical beats, exhibiting much more capabilities than static lights. The sensors detect the brightness in event venue and adjust the light intensity accordingly. To learn how to program intelligent light effects watch video here
In combination with artificial snow, bubble or fog machines, CO2 blasts, confetti Intelligent lighting works best
Intelligent lighting relies more on programming than on lighting placement, as everything is controlled through an automated console.
The event experts suggest that best lighting is a mix of diffuse and direct lighting, and our effort is to showcase these classic lighting effects through this blog for your next event.
However, your perception could be diverse in creativity; you can always throw some light here if your event bends over a different light spectrum.
Sources:
Must Read: