Finding Future Venues for Events and Festivals
06-Dec-2018 Author : Category : Trends & Event Ideas
The future events portfolio looks opulent and content with a lot of transformation. Event venues being at the core of this change, event attendees can expect to see something that is not accustomed to see on regular basis-- pouring lot of excitement, thrill, and surprises.
Let's uncoil these future venues taking shapes on the plateau of event celebration.
1) Event Venue in the Sky
Floating in the sky to some 200-300 feet suspended through a couple of cable wires, no doubt can take your breath out but event planners have gracefully executed this new idea to give guests a thrill of a lifetime by throwing a dinner party or even a small event. The new adventure lifts guests to conceive a panoramic view of the city in the twilight while transcending them gently towards a celebration mood along with cool whizzing breeze. This open-air dangling affair surely put you on the moon for a while and gives a chance to retrospect sparkling starlight popping-out through common man's window.
2) Water banks- Inflatable floating venue
Architecture alumnus Randall-Page and Benedetta Rogers win annual Architecture Foundation competition 2018 by designing unique inflatable performance venue. With the shrinking place in metro-cities, this structure is a good alternative to shine river-banks with attendees exchanging giggle and smiles attending a live comedy, art exhibition, etc. The structure has a two-level inflatable space with a high-pressure supporting structure and low-pressure canopy. With the stretched awning on the airlock door and fan unit, the 'AirDraft' provides a place for guests to kick off their shoes and lounge about in playful comfort while partnering with existing small venues AirDraft can sweep a good number of events. Watch video here
3) Residential backyard- Inflatable domes and Pod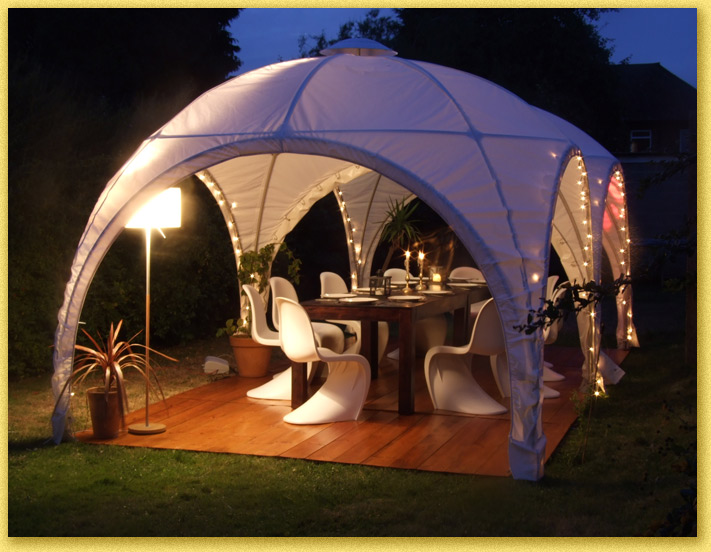 Till now residential backyards were looked-up as a collection pot for spring fall out, however, the event planners lateral thinking tapped this ordinary place to host special events. To prove the feasibility, Inflatable Toronto's Bridle Path Foundation, held an annual fund-raiser event in the backyard of a residential home drawing 1,500 guests. Probably, this induces confidence among event planners who hesitate to convert the idle sitting place into a sizzling event venue. However, your sound acoustic should be low, soft and pleasant to avoid violent participation from the neighborhood.
4) Unconventional Venue Spaces- Airport hangar/ Train
Guests can have a pre-conceived notion of how the event will be like if they already knew the event venue place, which may kill the element of surprise. But if you succeed to break this notion by picking up an unusual venue like airport hangar or train compartments then their wild guess would snooze off with a lot of curiosity and anxiety, doesn't matter if the execution pattern is similar. The benefit of using a venue like an airport hangar is that the owner will add extra income to its pocket and at same time guests will have an expensive centerpiece to chit-chat at length.
5) Public Places- Cardboard Booth and Bum Box Seating
In exhibitions and trade-shows event, a booth is a skin of the business, and it should be agile, flexible and charming just like your own skin. With foldable and portable cardboard booth, any public place with 6x4 feet space can readily be turned into an event venue. It leverages the freedom to stand anywhere and allows quick set-up of the exhibition booth. Similar to standing booth there is also available cardboard tent for music festivals like Coachella and Tomorrowland. If you are thinking that it will wash away with rain and wind then you should probably see this video. The cardboard tents and booths are waterproof, providing a cheap and effective solution. But that just event exhibitors, for event attendees there is Bum-Box Seating again made of cardboard to enjoy event comfortably.
6) RoofTop - Airclad Structures
Rooftops are credential for events giving terrestrial view while sidelining the typical jam pack venue hooked with undue attention, strangled air ventilation, and noisy surroundings. The AirClad eXpo can justify any event precisely by assembling and extending various extruded profiles as a single unit. It also incorporates a keder extrusion for the sliding in the air inflated skin, a hassle-free, very fast and safe to install. The air cells on the AirClad system will keep structure inflated over short periods of time to for longer usage one can add external air management system. You can watch the video here
7) Inside the Caves
In the midst of greenery and serenity of nature, your guests will have a piece of calmness to relish the event joyfully. Cave has become an emerging venue spot for events to play the string of musical performance while adding in the background the crackling sound of water-stream, occasional melodies of chirping birds and gushing wind through rocky cleft. The event décor goes even outstanding with marvelous rocks acting as stage backdrops, stalagmites making chandelier and sharp cutting ridges rallying with garland elevating the whole setup. The place becomes further adventurous, as guests scout Cliffs and Caves to pout with picturesque location. This space is truly aspiration for nature lover seeking to melt in its absolute tranquility.
8) Reusable sports stadium
In the 21st century, the future of event venue has got to be innovative and if it is not then it is questionable. Qatar is trying to unveil the first reusable stadium during football world cup 2022. The stadium design is capable of being reassembled as well as dismantles completely, which can be transported and reuse for other events. The stadium is constructed using removable seats and modular 'building blocks', parts from the ground. This indicates the future event venues will be much more creative and focused on minimizing construction costs and conducting smooth events.
9) Shipping containers for exhibition
Piled stacks of containers on sea-dock were never in lime-lights then recently. The massive inner space with a strong outer metal wall the containers elegantly speaks the event planners choice. The flap opens in the event not to unload merchandise but with a plan to market merchandise doing some real business. The flexibility to transport anywhere and ready to launch an exhibition on the go, these shipping containers are now the event venues blazing model. Watch video here
10) Mid-air meeting and conferences
While we speak about different venues for events and festivals, there are few event planners who want to experiment different style in the existing one. This involves a mid-air tradeshow event conference. The executive takes a round of meetings hanging in the air with attendees, giving them a totally new space for discussion. Isolating them from the rest the executives gain complete attention of clients and seals the deals before their footprint vanishes among the crowd.
11) Bigger and Mightier – MSG sphere Las Vegas 2021
The future events will be essentially mapped on the enormity of their structure and how it is displayed. The MSG Sphere venue will be the epitome of this, creating buzz around the city without placing too many marketing flyers. The MSG Sphere is set to make history by 2021 building on a 63-acre site on Sands Avenue between Manhattan Street and Koval Lane. It will have a height of more than 360 feet and a width of more than 500 feet. The property has a capacity for more than 18,000 seats, all which will face the stage. The Sphere will have the largest and highest resolution LED screen on Earth. The 70,000-square-foot display wrapping around the interior of the bowl, giving the audience choice views no matter where they are seated. The local bodies envisage this venue not alone as event space but a tourist attraction that will hurl people in numbers from all around the world.
These venues are an emerging trend in event exhibition but not necessary that we have covered all of them if you have to share anything that we have missed here remember we are always there to hear you.
Source
Popular Reads,