Top 10 Globally Popular Mocktails from High-end Restaurants for Your Event
20-Aug-2018 Author : Eventaa.com Category : Trends & Event Ideas
Event organisers love to lay back in their lightest moment experimenting new novelties at various hotels, bars and restaurant to rejuvenate themselves out of an exhaustive event. Coincidently over their friendly banter and meet-up, they strike some amazing discoveries to shine in their next event. Here is the collection of some similar discoveries, an exotic list of mocktails/ non-alcoholic drinks to try from high-end-restaurant of the world, in case, you plan to impress event guests they never imagined.
So sit back, relax and enjoy this oasis of the exhilarating non-alcoholic mocktails, which are becoming increasingly popular over the globe.
One of the fine dinings in the heart of London "34 Mayfair" have some exquisite line of mocktails. "Sakura" mocktail is one among those collections that meet celebration purpose in style. The cocktail is simply graceful to replenish you with their fruity texture and floret aroma. It is blended with the mixture of cherry syrup, lychee juice, almond, jasmine flower, and soda. The other alternatives to try are Manuka, Desert tea, Saffron, and Land.
Relaxing on Hawaii beach with mocktail is a traveller's dream. The peaceful island is a paradise for cocktail lovers, as it is habitat to some rare tropical fruits, adding intense flavour to mocktails. Mai Tai is a famous mocktail served at revolving terrace restaurant Waikiki, prepped with lilikoi, pineapple, tea, lime, and orgeat syrup. This nectar when descends in your gut the feeling evokes is no less than the Hawaiian oceanic waves making a whirlpool of distinct flavour at once.
In the heated desert, the luxurious Coya Dubai quenches the thirst of visitors with varieties of Mocktails and Cocktails. Purple Rain lifts the mood from some of the tallest structure of the world while staying grounded to the traditional Peruvian taste, extracting flavours from chicha morada, passionfruit, pineapple juice, fresh lime juice and a touch of sugar. The other Mocktails bridging Dubai to South American taste are L.P.G, Hubba Bubba, and Pinazanna.
(4) Tropical Jolly- Hurricane's Grill, Darling Harbour Australia
Damped in the calm and beautiful Australian beach, you can relish the taste of Sydney tribe through favourite local restaurant Hurricane's grill, Darling Harbour. The restaurant serves the popular Tropical jolly mocktail, a mix of mango sorbet, guava, apple and lemon juice blended with a mango puree. The appearance looks darn fancy, the defrost water droplets slide through chilled mocktail makes you addict long before you taste it. While sipping in, the periodic explosion of various taste- sweet, sour and tangy at regular interval deciphers the intrinsic skill of the mixologist. If mild alcohol is no bar, you can also please yourself with "vivid blue" and "vivid delight" cocktails.
(5) Daiquiri- Bush Bar Jamaica
Jamaica's fantasy for bright colour is deeply enrooted in their heart, soul and hippy culture. Crafted with great care this cocktail spiked with rich colour leaves a tranquilising effect on consumers. It allures guest to refill over and again. Bush Bar with its forest-to-ocean view wraps nature entirely in its daiquiri. If alcohol is no bar, then cocktail "Flaming Bob Marley" at Xtabi restaurant is a unique experience, where the guest has to slurp cocktail with firing blaze.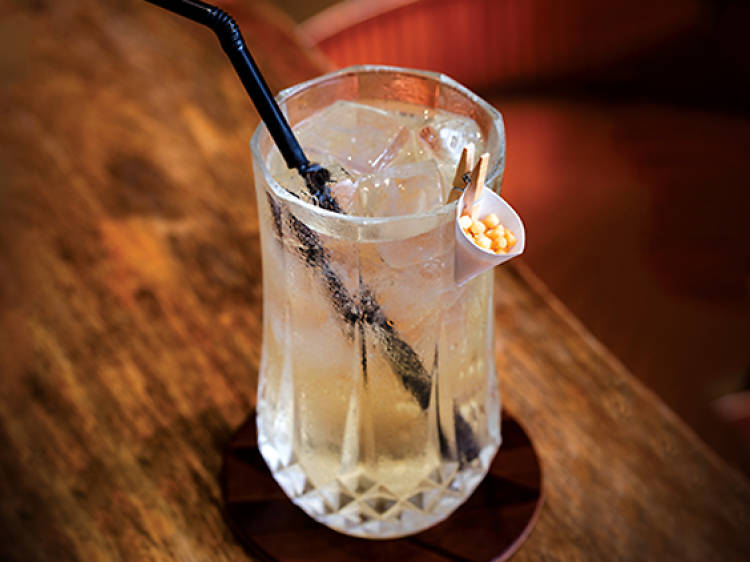 VEA restaurant connects east with west, founded by local mixology legend Antonio Lai. Unlike traditional Cocktail, rallied with sweet and sour fruit taste, Genmai mocktail disperses mild pungent taste for a change. Along with it serves the crunchy bits of toasted rice kernels to enhance the Genmaicha tea flavour further. This unique drink cost HK$90 and popular owing to its resemblance to an alcoholic drink but with no trace of alcohol. If you are looking for the replacement of alcohol then also check Seedlip, the world's first distilled non-alcoholic spirit that tastes like gin.
(7) Bowery Punch and Bell Pepper Lemonade - Saxon + Parole's NewYork
A small sip of bright sparkling mocktail glass shoots you to a roller coaster ride. It sways on your taste bud to blasts some heavenly flavours and with it comes a great pleasure of gratification. The secret lies in the mixology method and some rare ingredients used in its preparation. Drinks feature house-made shrub, celery bitters and fresh fruits and veggies. The bell pepper lemonade and bowery punch are the top preference among non-alcoholic drinkers. The price is very nominal at just $8. "Saxon+Parole" is a known destination in New York for mocktail lovers, they grate New York City life into a punch of tasteful shots.
(8) SAKI- Sky Lounge Aurora Japan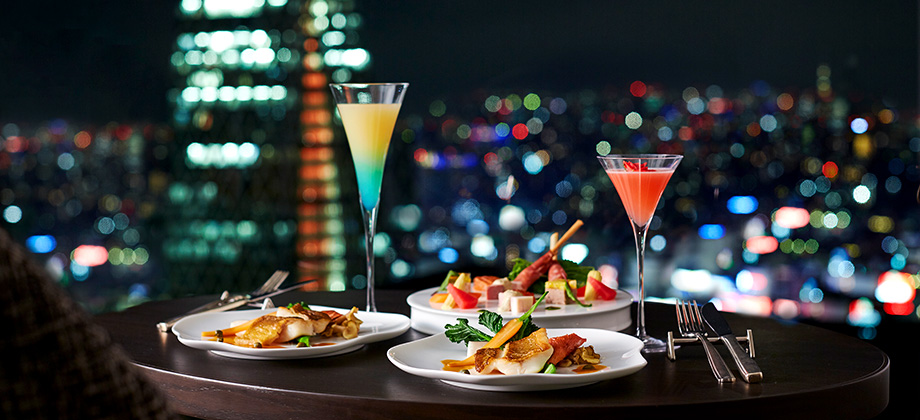 Sky Lounge Aurora is the most non-drinker friendly places in Tokyo, which will move your senses with its sensational panoramic city view from 45th floor. "Saki" is visitor's first choice on non-alcoholic cocktails flared with vegetable juice, green tea, plum, and yuzu. The drink cost you about JPY 1500. In case your inclination is towards some cool and mouth-watering dessert then check out japan's honey toast an architectural dessert to substitute your mocktail choice.
(9) Maria Feltz mocktail - Santisimo Agave Spain
Spain's famous Ballard dance looks elegant when played in a symphony, the same reflects in their mocktail preparation when a mixture of fruit syrup proportionates each other to devour right taste. However, talking about the non-alcoholic drink in front of the world's leading wine producer is an injustice, but Santisimo Agave takes this honour proudly stirring up Mexican taste among Spaniards. They serve gorgeous non-alcoholic drinks like Maria Feltz mocktail, a blend of strawberry, spice, lime, and tamarind. Beside this, a local Spanish drink "Sangria" is popular worldwide for its fruity punch comes with the touch of alcohol. However, you can ask for a non-alcoholic version if the bartender is up with his mixing skills.
(10) Mister Ginger- Le Bar du Plaza Athenee, France
An empire of flavours extracted from luscious fruit creates magic when they sneak out from French orchards to prepare some classic French toast. It could give a fresh start to any party bash or event based on a French theme. The smooth, soft and tender texture of various mocktail served at Paris restaurant is priceless, among them stand-out the bar cum restaurant Le Bar du Plaza Athenee, in Paris. It spans a long list of alcoholic drinks, along with some non-alcoholic version like Mister Ginger, a combination of fresh mint, ginger ale, simple syrup and soda water.
This was our list, if you defer in your mocktail's choice for events then give shout to event bartenders at eventaa. Also, check this expensive cocktail list ranging from $50 - $16,000, it should interest you and your cocktail frenzy friends.
Must Read:
Geofencing for Events: A smart & sure way to claim event success
Best Event Photography of the Year 2018
Sources